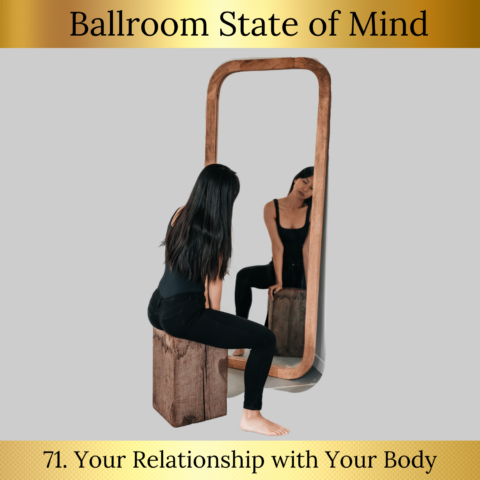 The ballroom dance industry has a component that is all about aesthetics. Your "look" matters. So if you don't like how you look in general, it's going to hold you back. Add on that a healthy dose of perfectionism and odds are you don't have the best relationship with your body. You might not have realized that you even have a relationship with your body, but you do.
Think about how you treat your body, talk to your body, think about your body and figure out how you would describe that relationship. If it's at all critical, toxic, or even abusive, then it's at the very least counter-productive and at it's worst, you are at constant war with yourself. Why would you want to do that?
In this episode, I offer the tool of body personification. We think of your body as separate from you, think of them as a person, give them a name and then gain awareness about how you have been treating yourself. This tool has the power to heal some of your body issues and start to repair how you see yourself. Believe it or not, your body image can drastically affect your ability to dance your best. Don't let this be one of the reasons you are held back.
Join Joyful Ballroom Facebook Group ⁠⁠⁠HERE⁠⁠⁠⁠⁠
Book a Dance Strategy Call ⁠⁠⁠⁠⁠HERE⁠⁠